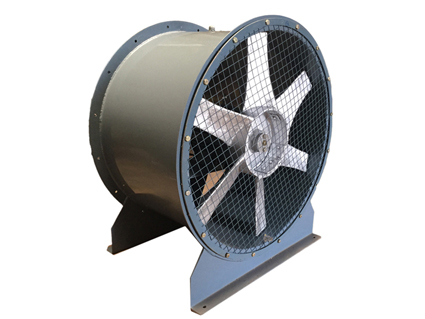 Heavy Duty Tube Axial Flow Fan / Blower & Man Coolers
Industrial Tube Axial Fans are used where high volume of air is delivered at substantialy low pressure. Tube axial fan provides high efficiency as the tubeular casing guides air smoothly through the rotating blades. These heavy duty tube axial flow fans can be installed in following ways
1. Flange Mounted- tube axial fans can be bolted on outlet/ inlet flange of the tube.
2. Pedestal Mounted (Man Coolers) - Many times refered as Man Coolers these axial fans are provided with stand. Man Coolers are kept directly on the factory floor. Eminent Systems Man Coolers are available with facility of tilting the fan at different angles.
Typical Industiral Applications of Tube Axial Fans
1. Air circulation fans for HVAC application.
2. Industrial Air Ventilation fans.
3. Kitchen Exhaust Fans in Hotels & Restaurents.
4. Tube Axial Exhaust Fans in factories.
5. Man Coolers for Industrial Cooling Purposes.
6. Man Coolers for Comfort Air Condition in Industrial and Comercial Facilities.
Features of "Eminent Make" Tube Axial Fans
1. Light Weight Aluminium impeller giving maximum efficeincy, corrosion resistance and increased motor life
2. Accurate dynamic balancing providing smooth operation of Tube Axial Fan eliminating undue vibration.
3. Airodyanamic design for high flow and efficiency.
4. Sturdy fan construction for heavy duty operating conditions.
5. Our Standard Tube Axial Fans, Man Coolers are ready stock for giving delivery at minimum time period in India.
6. Powder coated axial fan Casing giving excellent asthetics.
7. Superior quality Tube Axial Fans at competetive prices.
Along with our standard heavy duty tube axial fans, we also manufacture fans for special application such as at high temperature and with Stainless Steel Construction.